An Iowa men's basketball team that had a number of magical moments this season almost pulled its biggest rabbit out of the hat today, erasing a 25-point deficit against the 5thranked Tennessee Volunteers before falling in overtime, 83-77.
Iowa would have tied the record for the largest comeback in NCAA history had they been able to finish the job. Instead, they fell just short.
Iowa, which rebounded this season from a 14-19 finish a year ago, showed heart in fighting back against a tough Tennessee team that finished second in the SEC.
The Volunteers seemed quicker and more athletic during the first 20 minutes of play, forcing Iowa (23-12) into committing nine turnovers. Tennessee led 44-19 and took a 21-point advantage into the locker room.
But the Hawkeyes returned with newfound energy and purpose.
Led by their star Tyler Cook, Iowa slowly ate into the Volunteers' lead. Cook was 0-5 in the first half. But in the second the junior forward scored Iowa's first 9 points, finishing with 11. His teammates fed off his energy, picking up the scoring the rest of the way, including huge three-pointers from Iowa junior guards Jordan Bohannon and Isaiah Moss.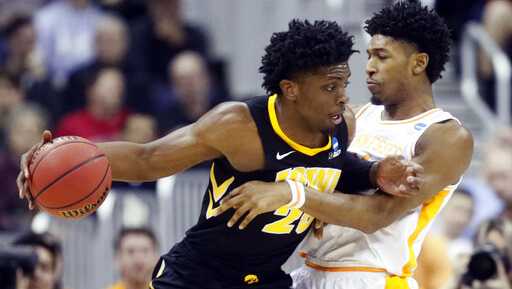 Joe Wieskamp's two free throws tied the game with 20 seconds left, and the two teams went to overtime, the first for the NCAA tournament this year.
After regulation, it was Tennessee's turn to regroup. The Vols jumped out to an early lead they never relinquished, led by two-time SEC player of the year Grant Williams.
"We just kept chipping away, there's no 21-point rule," Iowa senior Nicholas Baer said after the game. "We fought and I'm proud of that."
Last-minute thrillers have been a hallmark of Iowa's season. Late jumpers by Bohannon and Wieskamp against Northwestern, Indiana and Rutgers helped to put the Hawkeyes back in the NCAA tournament for the first time in three years.
The two had big moments again on Sunday, as did nearly all of their teammates. All five starters scored in double figures, led by Bohannon, who had 18.